Covid 19 has changed a lot of things for plenty of people not least of which is the ways and where's in how we work. Even if we do go back to a regular office environment it is much more likely to be in a hybrid manner that sees us in the office at most a few days a week. Obviously, this will impact the required amount of space with fewer people in the office at any given time – so too will layouts change as they will need to be altered for social distancing. The initial move to working from home was daunting for both employers and employees alike, but now many couldn't imagine having to go back to the 9-5 office grind – at least not for the full 5 days. This decrease in demand for regular office environments is likely to also greatly impact surrounding retail and hospitality businesses that previously catered for the masses of people heading into a CBD on a daily basis. It is therefore highly likely we are going to see some drastic structural changes to our cities in the coming years with many buildings being renovated, relocated and no doubt repurposed.
It will be an age of design for our construction workers and architects and interior professionals as they guide us into this new working age. The sky is quite literally the limit in the case of some of the buildings we can expect to see changed. Thankfully this will have a positive trickle-down impact as it will supply many from our labour sector with an abundance of work and also the added bonus of a strong indication that we are out of the woods Covid wise. We are also likely to see this change affect the housing opportunities in the city. While less office space is required, we will no doubt see an increase in popularity for larger homes. Many who would have previously worked in an office all 5 days of the week will now have the need for an at-home office. It is therefore likely we will also see some of the available real estates within our cities central borders being redesigned into post-Covid appropriate housing.
Covid has undeniably impacted our arts industry immensely. Many have been out of work for the last 18 months. In the first six months of the pandemic, when we were experiencing lockdown for the first time (a state Melbournians were destined to see more than freedom going forward), we were fortunate to have a series of government support options. Many businesses went bust and had to close due to Covid restrictions, but many were able to survive as a result of these financial aids. However, these lifelines were not afforded quite as readily to the art workers in our communities. Many were forced out of the industry and if they were lucky enough to find a replacement job it was far from what they were interested in or trained for. Naturally, this lack of funding and support for creative ventures has been demoralising and uninspiring. Art galleries, performance halls and gig venues are just a few examples of the cultural gems we have been missing all these months. Many are pining to gaze on walls filled with art, to view the pieces shown in an airtight cabinet for an exhibition showcase – basically anything that suggests the end of this dry spell.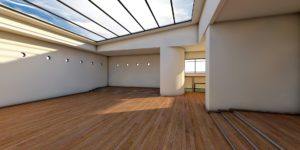 This post-Covid industrial age is exciting for many as we will see plenty of new luxury workspaces. Once our workmen and women are finished with their bulldozers and frannas we will be opening the doors to some spectacular collaborative spaces in the form of offices and studios. High ceilings and warehouse-style décor were already in trend for a lot of hospitality buildings pre Covid and we will likely see that popularity migrate to office buildings too. Not only aesthetically pleasing, but these designs also allow for better ventilation which will be required to prevent the spread of the virus.
Speculation suggests that for many industries, the main reason for coming into an office will be for meetings and collaboration. The capacity to come in and plug a laptop into any desk will also be the norm. Layouts will likely keep with the existing factory renovation style with comfy couches that allow casual collaboration, simple and stylish storage such as metal display stands, and large purpose build meeting rooms for teams to regularly gather. Many existing renovations have also seen designers keep with the theme expected in the style of building – lots of metal frames and industrial themed fixings including staircases.
The United States of America has been involved in restoring aged industrial buildings for quite some time now. Their history may not be much older than ours, but they have and had many run down and unused buildings – it is fabulous to see them given a new lease on life. When undergoing these renovations, the Americans have made a point of trying to maintain the historical integrity whilst allowing the space to be functional enough for use. It is the hope that a similar attitude will be used when approaching buildings in Australia when renovating some of the older buildings that are currently empty or out of action. Circumstances may be different to the US, but the outcome will likely be much the same. It is the perfect opportunity to ensure that existing buildings are not wasted. With the mass number of physical changes being undertaken, it would be unsurprising if there was also a big push for us to utilise the opportunity to also recognise the original owners of the land.
Renovating will always be a costly endeavour and a factory or existing building to luxurious, modern office space is no exception. These buildings are often quite old and previously built with a very different function in mind. For some of the larger factories, there may be structural hurdles that have to be overcome. However, despite these potential negatives, the payoff from the finished product will be all worthwhile in the end.